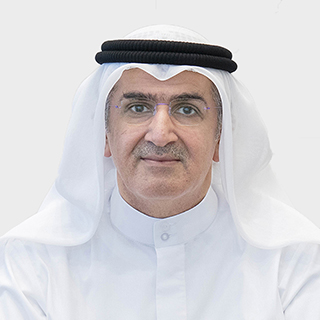 ---
Current Positions:
Governor and Chairman of the Board of Directors, Central Bank of Kuwait since April 2022.
Chairman of the Board of Directors, Institute of Banking Studies.
---
Prior to his appointment as Governor of the Central Bank of Kuwait (CBK) in April 2022, Al-Haroon held several high-ranking positions in the banking and financial sectors. He started his career at the CBK in 1989, advancing in various posts at both the Technical Office and Supervision Sector, culminating as Manager of the Off-Site Supervision Department, where he contributed to various studies and regulations until 2006. He then moved on to head an investment company in Kuwait. In late 2006, he rejoined the CBK as the Manager of the Foreign Operations Department until he became the Executive Director of Operations and Research Sector to oversee both the Foreign Operations Department and Economic Research Department until 2012, in addition to the Financial Stability Office established in 2011. In early 2012, Al-Haroon was appointed as a member of the Board of Commissioners of the Capital Markets Authority (CMA) and cofounded, in collaboration with associates, the CMA organizational structure until 2014. During 2015-2017, he worked in a GCC-based multi-commodities center firm engaged in advisory, risk management and accounting services. In 2016, he was the Vice Chairman in a Kuwaiti bank until 2018. In 2017, he served as an independent director of an investment company in Kuwait until 2018. In April 2018, he became the President of Kuwait Financial Intelligence Unit. In 2019, he was appointed as Chairman of Credit Information Network Company (Ci-Net) until 2020. In mid-2021, he presided the Kuwait Financial Intelligence Unit again until March 2022. Basel A. Al-Haroon holds an MBA with Honors from the American University of Beirut in 2008, as well as a Bachelor of Science in Business Administration with Honors from Saint Augustine University, USA in 1988. He is a graduate of Harvard University's Strategic Management Program in 2010, and the Imperial College of London Program for Business Analytics in 2020. In addition, he attended several technical programs in the banking, financial and supervisory fields with the Central Bank of Kuwait and other entities including the Federal Reserve Bank of New York, Bank of England, European Central Bank, Banque de France, Bank for International Settlements, International Monetary Fund, and Toronto Centre's program on Global Leadership in Financial Supervision. He also participated in several meetings with the Basel Committee on Banking Supervision, the Islamic Financial Services Board, the International Organization of Securities Commissions, and others.